Former Buckeye Proves Capabilities at Combine
Ben Fitzpatrick hails from Hillard, Ohio, a town just outside of Columbus. He shined early on in his career at Hillard Bradley High School earning Rookie of the Year honors his freshman year. As his high school career went on, the awards piled up. At the end of his career, Fitzpatrick had accumulated All-District first team, first team All-OCC, and nominated as Player of the Conference. This strong high school performance landed him the opportunity to play college soccer at Urbana University.
Playing college soccer was always a dream for Fitzpatrick and he surely didn't take the opportunity for granted. "You must work day in and day out in order to make your dreams a reality. There will definitely be roadblocks along the way but you have to continue to push towards your goal," Fitzpatrick said. This attitude kept Ben motivated and took his game to new heights.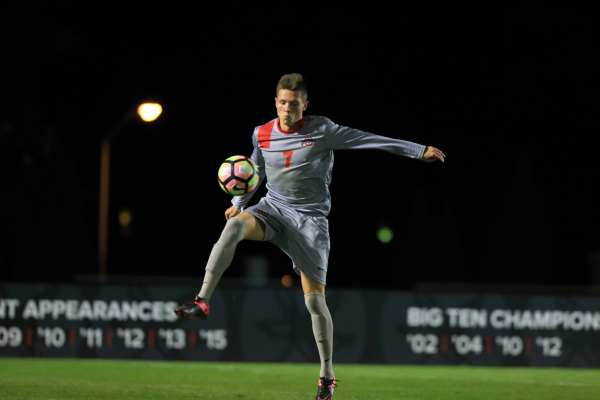 Throughout his three years at Urbana, Ben totaled 13 goals and countless other accolades, such as Second Team All Region, D2CAA All Atlantic Region First Team, and MEC first team. This exceptional career drew the attention of several Division 1 head coaches. After weighing his options, Fitzpatrick decided to take his game to Columbus and play his senior season at Ohio State University.
The Buckeyes trusted Fitzpatrick from the get go, giving him the start in 14 games. He didn't disappoint and ended his collegiate career in strong fashion, finishing fourth on the team in total points. Though he spent only one year as a Buckeye, playing at Ohio State put Fitzpatrick on a platform that greatly benefited his career.
Once his college career concluded, Fitzpatrick was determined to give a playing career in soccer a chance before apply his education to a more formal job.
"I always watched sports on T.V. when I was young and dreamed of playing in front of thousands of people. Whether it was soccer or basketball it didn't matter. I just loved being a good athlete. So I didn't really tell myself I wanted to be a professional soccer player until I was a senior in high school. I realized that soccer was the thing I loved the most and that it is what I want to do for a living. I just can't see myself working a 9-5 job in a cubicle. It's just not who I am," said Fitzpatrick.
This ambition got closer to reality when the former Buckeye was offered a roster spot with the Michigan Bucks, a team in the Premier Development League (PDL).
As a midfielder for the Bucks, Fitzpatrick tallied 10 goals and 3 assists in 18 appearances all while leading the club to a league title. Throughout his year in the PDL, Fitzpatrick performed at an extremely high level which caught the eye of soccer professionals around the area. Because of this strong showing, Fitzpatrick earned himself an invitation to the Midwest Pro Soccer Combine.
He discussed how this opportunity changed his career, adding, "Personally, I was someone who was not really on anybody's radar. So getting the chance to play in front of a group of professional coaches and scouts was something I could not pass up on. The Midwest Pro Soccer Combine gave us the chance to show what we were capable of while also getting to play with other high level players. So getting the chance to play under a good staff that the combine brought in as well as playing with other players aspiring to take their game to the next level definitely help prepared me for the pros."
If Fitzpatrick wasn't on coaches radars before the combine, he certainly was after. Within two weeks after the completion of the combine, Fitzpatrick inked his first professional contract with the Pittsburgh Riverhounds.
Although this will be a moment that lives with the young footballer forever, Fitzpatrick is just getting started in the pros. He's made it clear that his goal is to make it to top tier of American Soccer, MLS. The jump to the professional ranks of soccer has already done wonders for Fitzpatrick's game. Soccer is now his full time job and with the commitment and determination he already holds, his ability is limitless. Don't be surprised if his you hear his name pop up in an MLS broadcast in the future, the kid is the real deal.
About the Midwest Pro Soccer Combine
The second annual Midwest Pro Soccer Combine will take place on Monday, December 18th & Tuesday, December 19th at the Legacy Center Sports Complex in Brighton, Michigan. The combine will accept the top professional prospects to play for two days in front of professional coaches, scouts and intermediaries from North America and abroad. Click here to apply to the 2017 combine.