Professional Journey Blooms in Toronto for Eckenrode
Lars Eckenrode grew up in Springfield, Virginia in a soccer oriented family. He would spend weekends playing pickup games with his two brothers, Jannik and Kai. Like Lars, both brothers excelled at the sport. Jannik, who played his collegiate career at George Mason University, plays professionally overseas. Kai, the oldest, was a standout player while at Stetson University setting the standard as a role model for his younger brothers. From an early age Lars had one goal, to play professional soccer.
This dream looked as if it was coming to fruition at a young age. As a youth player, Eckenrode shined and quickly gained recognition of local clubs. During his junior and senior year of high school, Eckenrode played for D.C. United's youth squad. This opportunity put him on a national stage where he garnered interest from collegiate teams across the nation.
Eckenrode decided to attend the University of Michigan. He was named to the Big Ten All-Rookie team in 2013 and College Sports Madness Preseason All-Big Ten team the following year. Entering his senior season, he earned the role of team captain for the 2016 season. In addition to playing for the University of Michigan during 2015 and 2016, Lars joined forces with a semi professional club in his University's hometown, AFC Ann Arbor. Eckenrode accumulated 3 goals and 2 assists during his time in the NPSL.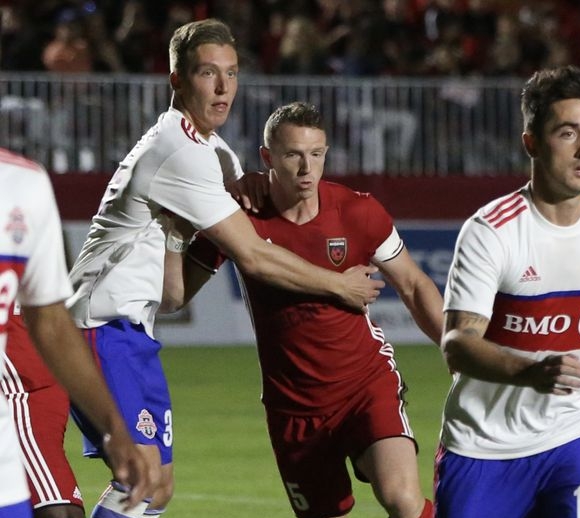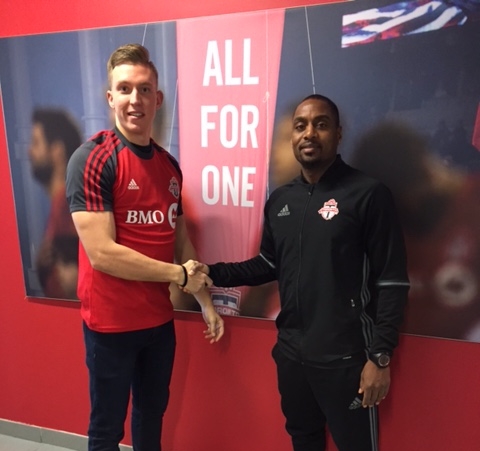 Draft night, a time when most prospects sit nervously fidgeting with their phone waiting for the big call, in contrast was a seemingly normal night for Lars Eckenrode. Instead of worrying about where and when he would be selected, Lars hit the practice field to train with his brother. After a great session, Eckenrode found multiple missed calls and text messages on his phone. While filing through, he realized his childhood dream had come true. On January 19th of 2016, Toronto FC selected Lars Eckenrode in the 4th round of the MLS Superdraft. That moment was a true testament to Lars' character and determination.
So what's next for Eckenrode? He has his sights set on big things in the future. Currently on Toronto's "second team", Toronto FC II in the USL, Lars is determined to break into the top division of soccer in America (MLS). With the skill set and determination Lars has displayed throughout his soccer playing career, he has a good chance to reach his goals in the very near future.
Although Eckenrode's playing future is bright, his professional career hit a road bump at the beginning of his professional campaign. Just after being signed with TFCII, Eckenrode suffered an injury in training. When asked about how he is handling the injury he responded, "I've used this injury as a way to help grow off the field. I've learned more about myself, I've added new things to my daily schedule that have transitioned smoothly into my days now that I am back training. I used the injury to my advantage to learn new things about how I can be a better athlete - and I am coming back stronger than ever because of it." TFCII have taken note of this poised attitude helping him get back on the training pitch of late with his regained health.
To truly gain appreciation for what a special young man Lars Eckenrode is you must ask him about life after soccer. "In 5 years I plan on wrapping up my professional career and I will be training and getting ready for Officer Candidate School in the United States Marine Corps. Pro soccer has been my dream since I was little but I know I am meant for something more and I have an extremely strong desire to serve in the military," Eckenrode stated.
It takes a truly selfless and courageous individual to turn in a life on the pitch for a life on the battlefield. Whether it is playing soccer or serving our country in the United States Military, Lars Eckenrode has all the tools to excel.
 
About the Midwest Pro Soccer Combine
The second annual Midwest Pro Soccer Combine will take place on Monday, December 18th & Tuesday, December 19th at the Legacy Center Sports Complex in Brighton, Michigan. The combine will accept the top professional prospects to play for two days in front of professional coaches, scouts and intermediaries from North America and abroad. Click here to apply to the 2017 combine.